Contact FSM Drawings
FSM has offices in both New Hampshire and Massachusetts and offers rapid turn-around services to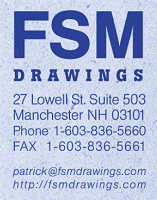 clients throughout the Northeast. We are able to field our teams across the United States for field measuring and data collection while simultaneously performing our CADD services in-house in New England.
Wellington Trade Center
27 Lowell Street, Suite 503
Manchester NH 03101
603-836-5660 (Office)
603-836-5661 (Fax)
E-mails:
patrick@fsmdrawings.com – Patrick Doherty, Managing Partner
adam@fsmdrawings.com - Adam DiMauro, Operations Manager
You can also contact us by filling out the form below.