Projects
FSM Drawings has provided CADD services for many clients, from small residential to large federal projects.  Below are some brief descriptions of some of our recent projects.
AIP3-25-5200, Westfield-Barnes Regional Airport Noise Mitigation Program – FAA-funded, Westfield, MA: 2010-2013
CADD services and CADD modification drafting for 112 single-family homes selected for participation in Noise Mitigation Program – Groups 1 through 5 Design
Westfield-Barnes Regional Airport is also home of the MA Air National Guard (ANG) 104th Fighter Wing and its F-15 Eagle. The 104th Fighter Wing, as part of the Aerospace Control Alert (ACA) system, has the unique mission to be combat ready providing armed fighters ready to scramble in a moment's notice to protect the Northeast from any airborne threat. Their deployment in Westfield has created increased noise by the incoming and outgoing flights of these jet fighters. Mitigation was necessary.
AIP3-25-5200, Westfield-Barnes Regional Airport Buyout Program – FAA-funded, Westfield, MA: 2010-2014
Groups 1 through 4; Demolition of 13 Homes; CADD services and CADD modification drafting for Plans & Contract Documents
In support of the Westfield-Barnes Regional Airport Noise Mitigation Program, we provided demolition plans to support hazardous material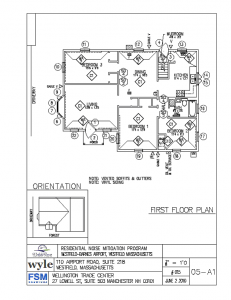 surveys. We generated existing conditions CADD Plans and provided Modifications as needed through the bidding process.
Based on the CADD drafting from field notes taken during this demolition project, the Reviewer noticed trees were placed approximate and not as measured to building. This allows the City to be back-charged by the contractor for trees too close during demolition. To prevent this, FSM provided an extra trip to the site to verify exact field conditions and updated the CADD plans prior to bid.
CADD Services & Modification: Westfield Barnes Air National Guard Base and Westfield Barnes Regional Airport: 2010
Updating and Modification to Details and Mechanical Notes; 84 ANSI-A sheets of details and mechanical notes
At the onset of this project, the Prime Contractor decided that many of the installation details, equipment specification details, and other data for the project used across the county for over 20 years needed to be updated.
Our firm was selected to perform the task because of our long-term relationship with the Prime Contractor working in the Northeast on multiple airport projects.  We generated CADD drawings with updated technical and field modifications provided to us by Prime Contractor's Technical/Construction department. QA/QC was an important part of the success in this fast-paced project.
Deerfield Veterinary Clinic Addition and Renovation, Deerfield, NH: 2011-2012
A/E/C Teaming Opportunity; 15,000-s.f. Addition/Renovation
This project was a team effort among FSM, MFPA, Inc., Gelinas Engineering, and the Owner to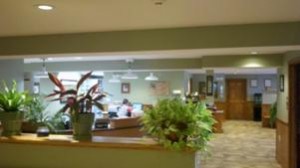 provide plans for expanding an existing clinic to a state-of-the art small- and large-animal veterinary hospital serving South-Central New Hampshire. Design was fast-tracked, and construction for this successful project was undertaken in the winter months with the existing clinic fully operational.
FSM provided base plans for the architect and structural engineer, CADD support to the architect for development of construction documents and construction period services supporting the architect and the General Contractor for field changes. As-built drawings were kept current and turned over to the Owner.
American Red Cross Pheresis Blood Laboratory Renovation: Worchester, MA: 2012
CADD services, field services; 4,500-s.f. renovation
Renovation project at a blood draw and laboratory facility. Our firm was a subcontractor to MFPA, Inc. FSM provided the field data collection and CADD services for the architect. Following concept drawings, our office generated AutoCAD construction documents.
CADD Coordination Drawings for Prime Contractor: Monument Construction, LLC, or Project VA Medical Center, Room 200, Northport, NY: 2012
CADD services and CADD modifications; ARCH-D Sheet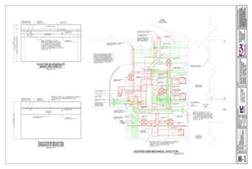 Generation of CADD coordination drawings for General Contractor (GC) and field trades to show how heating, mechanical, plumbing, and electrical work will coordinate with framing to reduce costly overruns, cuts in steel beams, or failed mechanical/plumbing problems. Our firm was a subcontractor to Prime Contractor Monument Construction, LLC.
Our office generated CADD coordination drawings for the GC in AutoCAD to be used in coordinating mechanical/electrical and plumbing trades with steel framing trades. The GC provided our office with sketches, digital photographs, and field measurements to work from.
W.P. Realty LLC, CADD Drafting & Modifications: 2009-Present
Fieldwork done at various locations throughout New England; typical project space averages 3,000 s.f.
Ongoing work with real estate firm WP Realty, which involves a site visit to a property within 72
hours of the request for collection of field data, followed by CADD plan being generated and delivered within an average of 96 hours from the initial telephone call.
MTA Camp Cutis Guild, Renovation and Addition of Building TS-11: 2012
CADD services for MFPA, Inc., Architect of Record for Project; ANSI-D Sheets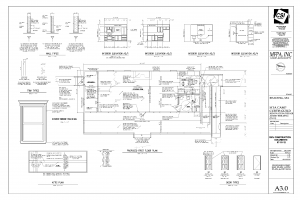 Proposed Plans for renovation project at Bldg. TS-11 for its conversion to a 21st-century administration and conference facility. FSM was a subcontractor to MFPA, Inc. We provided AutoCAD-generated plans in support of the Architect of Record.
For a list of our commonly used equipment and software, see this page.